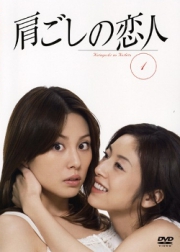 Over The Shoulder Lover
Drama |

Japon | 1 commentaire
Also known as : 肩ごしの恋人 (Katagoshi No Koibito) / Over-the-Shoulder Lover / Lovers Behind
Genre : Comédie, Romance
Aired : 5 Juillet 2007 au 6 Septembre 2007
Network : TBS
Number of episodes : 9
Average duration : 50 minutes per episode.
Director :
Takeyoshi Yamamoto
Cast : Ikeuchi Hiroyuki, Kaname Jun, Murasugi Seminosuke, Nagai Masaru, Sano Kazuma, Tanabe Seiichi, Kato Yoshika, Mitsuya Yoko, Nakayama Megumi, Shibuya Asuka, Takaoka Saki, Wakamura Mayumi, Yonekura Ryoko Plus...
Synopsis : Hayasaka Moe is a 30-year-old office worker in an import service company who cannot devote herself in romance. On the other hand, Moe's close friend, Murono Ruriko, who snatches Moe's boy friend away to marry him for her third time, is interested in nothing but romantic affairs. Through their love and friendship, this drama portrays women in their 30s being rocked by marriage, divorce, infidelity, and work.