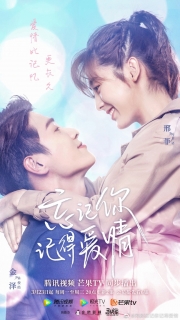 Forget You Remember Love
Drama |
Chine | Aucun commentaire
Also known as : 忘记你,记得爱情 (Wang Zi Bian Qing Wa) / 王子变青蛙 / Frog Prince / WangJiNi, JiDeAiQing / Forgetting You, Remembering Love
Genre : Comédie, Romance, Drame
Aired : 23 Mars 2020 au 27 Avril 2020
Network : Mango TV
Number of episodes : 38
Average duration : 45 minutes per episode.
Cast : Alex Dong, Joyce Zhao, Fair Xing, Jiang Xing Cheng, Yang Ming Na, Garvey Jin
Synopsis : Shan Junhao is the CEO of Senwell. He's a hard-hitting leader who never takes half measures to achieve what he wants. He's encounter with Ye Qianyu is not a pleasant one as he has mandated the closure of the Guanmei Inn, a place that Ye Qianyu holds dear. When Shan Junhao gets into an accident and wakes up with no memories of the past, Ye Qianyu takes him in and gives him a fake identity.

They grow closer through their time together even though she knows that one day, he is bound to leave.

More...
More details
Relations
Teams fansub
Little Buddha

Disponible en VOSTFR sur notre site internet https://0littlebuddha.wixsite.com/littlebuddha

Statut : Terminé
Fans
Voir les 3 fans