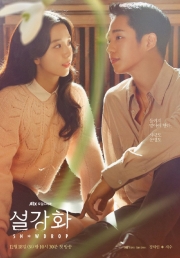 Snowdrop
Drama |

Corée du sud | Aucun commentaire
Genre : Romance, Drame, Historique, Mélodrame
Aired :
2021
Network : JTBC
Number of episodes : 16
Average duration : 60 minutes per episode.
Director :
Jo Hyun-Tak
Synopsis : Set in Seoul in 1987 and tells the love story of Im Soo Ho, a student at a prestigious university who suddenly rushes into a female dorm covered in blood one day, and Eun Young Cho, the cheerful and lovable student who hides him and takes care of his wounds even while facing danger under close surveillance.
Im Soo Ho, who grew up in Germany, has a gentle charm but gives off an air of hiding a secret. After falling in love with him at first sight at a social gathering, the lively Eun Young Cho happens to run into him again at her dorm, where she winds up tending to his wounds in hiding.
Pi Seung Hee, the notoriously strict and terrifying housemother of Young Cho's dorm, while Kye Boon Ok is a phone operator at the dorm who had to forgo a college education due to her family's financial circumstances.
Lee Kang Moo is the relentless head of the National Intelligence Service (NIS)'s Team 1, who always insists on doing everything by the book. Meanwhile, Jang Han Na is an impulsive and hot-tempered NIS agent who is passionate about her job.More...
More details
Scenarist
Teams fansub