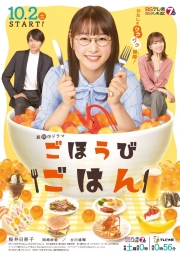 Reward Rice
Drama |

Japon | 7 commentaires
Also known as : ごほうびごはん (Gohoubi gohan) / Gohobi Gohan
Genre : Comédie, Cuisine, Tranche de vie
Aired : 3 Octobre 2021 au 19 Décembre 2021
Network : TV Tokyo
Number of episodes : 12
Average duration : 23 minutes per episode.
Cast : Furukawa Yuki, Okazaki Sae, Sakurai Hinako
Synopsis : Ikeda Sakiko is a newbie in the workforce struggling to keep up with work. In order to reward herself for having worked hard during the week, Sakiko cooks elaborate meals at home or goes to eat at restaurants which are interesting.
Trailer
More details
Aired
Teams fansub
jeshone-team

épisode 1 - 2 - 3 - 4 - 5 - 6 - 7 - 8 - 9 - 10 - 11 - 12 terminé

Drama terminé

Statut : Terminé