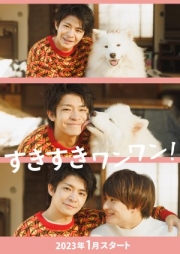 Suki Suki Wan Wan!
Drama |

Japon | Aucun commentaire
Also known as : すきすきワンワン!
Genre : Drame, Gay, Tranche de vie
Aired : 24 Janvier 2023 ~ on going
Network : Hulu / NTV
Number of episodes : 10
Average duration : 30 minutes per episode.
Cast : Kishi Yuta, Sakurada Hiyori, Ukisho Hidaka
Synopsis : Kotaro Yuki is a 26-year-old man. When he was a child, he played baseball with fierce determination. Since then, he hasn't given his best to anything else. After he quit his job, he just spends his days meaninglessly. He lives in a house that his parents left behind. One day, a mysterious man appears in front of Kotaro Yuki. The man introduces himself as Kotaro Yuki's former pet dog Ten.

When Kotaro Yuki was a child, he did have a pet dog named Ten. The mysterious man proceeds to freak out Kotaro Yuki. He knows things only that his pet dog Ten would know. Kotaro Yuki begins to wonder if the man could really be Ten?

More...