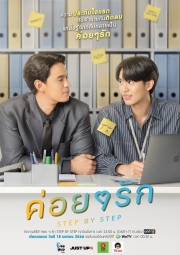 Step by Step
Drama |
Thaïlande | Aucun commentaire
Also known as : ค่อย ๆ รัก (Khoi Khoi Rak) / Gradually Love
Genre : Romance, Gay
Aired : 18 Avril 2023 ~ on going (jusqu'au 11 Septembre 2023)
Network : GMM One / WeTV
Number of episodes : 12
Average duration : 70 minutes per episode.
Cast : Poompat Iam-samang, Wasin Panunaporn, Ratchapong Anomakiti, Bunyapol Likhitamnuayporn, Trisanu Soranun, Theerameth Phirabawornsuk, Paramee Mahatthanadul, Puttachat Pongsuchat, Hassaya Isereekul, Sirikorn Kananurak, Nathanan Akkharakitwattanakul, Elicha Triwiwatkul, Sutthirak Tangsutthichai Plus...
Synopsis : Jeng is a fierce digital marketing manager despised by his subordinates in the company. As son of the owner, there's little he can do about it.

Pat studied abroad in LA before coming to work as an enthusiastic new member of the team. Jeng develops a secret fondness for his new subordinate, but in this position, he has to be particularly strict and picky with Pat.

It comes to a point where Pat decides to submit his resignation, sparking a reform in the workplace.

More...
Trailer
More details
Aired

Relations
Teams fansub