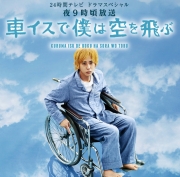 I Will Fly To The Sky On A Wheelchair!
Drama |

Japon | 7 commentaires
Also known as : 車イスで僕は空を飛ぶ (Kuruma Isu De Boku Wa Sora Wo Tobu)
Genre : Drame, Maladie
Aired :
25 Août 2012
Network : NTV
Number of episodes : 1
Duration : 100 min.
Cast : Ueto Aya, Ninomiya Kazunari, Iseya Yusuke, Kaku Tomohiro, Mitsuishi Ken, Yakushimaru Hiroko, Yasuda Ken, Tsutomu Takahashi, Kikuta Daisuke, Suzuki Fuku, Ikematsu Sosuke, Nobue Iketani Plus...
Synopsis : Currently not available.